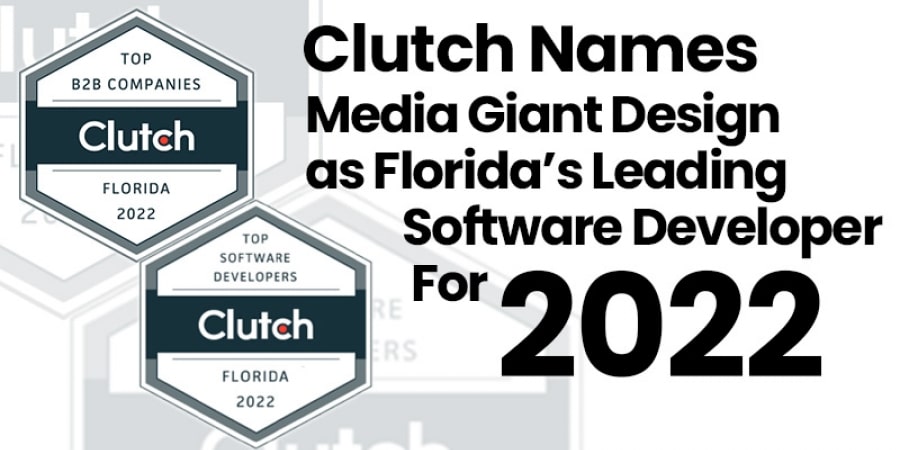 Here at Media Giant Design, there's no idea too daunting or hurdle too big. Established in 2009, we are a Fort Pierce-based custom web development and marketing company that's dedicated to serving clients from all kinds of industries. We are not just any run-of-the-mill service provider, we are passionate partners dedicated to helping clients achieve their goals. It's because of our clients' wonderful success that we officially celebrate a fantastic recognition today.
During the annual Clutch Leaders Awards for the United States, Media Giant Design was hailed as Florida's best-performing software development company for 2022!
"Its a great honor to be recognized as one of the US's Top Firms by Clutch. Our team works hard to meet and exceed the expectations of all of our clients, and this award really shows that our dedication to our clients is appreciated. Thank you Clutch." — Chief Executive Officer of Media Giant Design
Clutch is a B2B ratings and reviews platform designed to guide browsers through the IT, marketing, and business services industries. The site annually holds an awards cycle to spotlight and recognize the leading companies that fulfilled their strict evaluation criteria. The firms that receive awards are assessed based on their thought leadership, ability to deliver stellar solutions, and range of services.
The Media Giant Design team is genuinely honored to receive this award. We're absolutely proud to rank among the top 15 in our category's esteemed Leaders Matrix.
Thank you so much to all our clients, especially those who took the time out of their busy schedules to leave us their reviews. Your incredible support means the world to us. We attribute our company's success to your trust.
At Media Giant Design, we have what it takes to help your business succeed online. Get in touch with us and let us know what we can do for you.